so im doing some pest control having fun showing some1 all my stuff ( 7 ags 7 dfs 7 sets of vesta 3 vls all my rapiers and my 9 elaysian shields my 2 arcane 1 spectral 1 divine ) and i had max mage stuff in my invent ( as much as i could fit ) i was also wearing full vesta and claws then all of a sudden im teleported into level 3 wildi by jesus101 and he says..." hi .. just testing out the tele

" are u fucking kidding me u idiot! if i had died i woulda been pissed as i had no food and there was no reason for me 2 be there!
WHAT THE FUCK WAS THAT IDIOT PLAYING AT!
sorry im not disrespecting staff but im pritty pissed now im at pc with fucking food....
NEED PROOF?
THIS WAS JUST A LITTLE WHILE AFTER..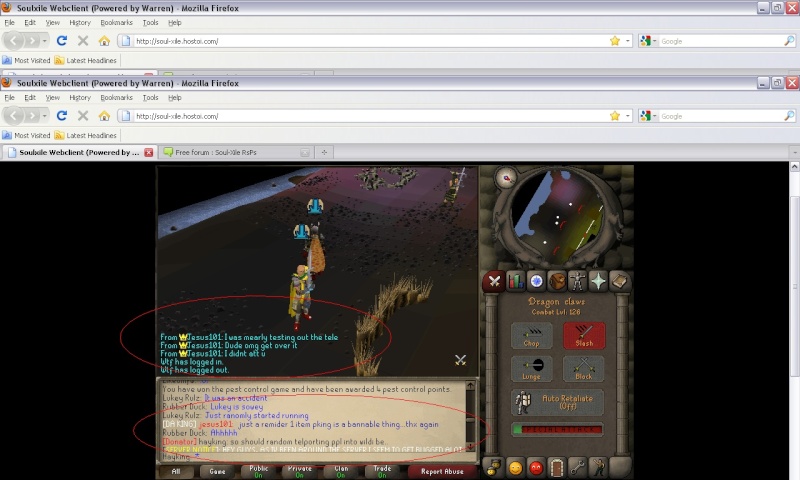 Last edited by hayking on Thu Dec 16, 2010 7:21 am; edited 2 times in total (Reason for editing : posting pic)
yes it is...but calm down he didnt attack you
Moderator





Posts

: 88


Join date

: 2010-12-09



ok he dident attk me but he was standing there with full vesta and claws we were like twins lol but as soon as i landed from the tele i spam clicked out so i dont have a clue if he tryed or not but it was fucking scarey lol
And mate Yes... I know he didn't attack you please dont think of it as me standing up for donating staff ( I honestly hate the idea of donating for staff because i get asked by people( Mods/admins/co/owner) how to spawn... and what is the rules and what isn't... I am very sick of it as they should know more then me ( Co's and Owners) but they dont (Jesus101) I think he was actually trying to kill you.... and yes Teleing in to wildy i think is a demotion ( Hopefully it is)

-Your Ingame Admin,
Leetheking2
Moderator





Posts

: 88


Join date

: 2010-12-09



i dono if u all know that we hate each other as im constently saying its sad that he payed 100$ for owner of a game etc etc and i know he hates me he know's i hate him..then that happens im 100% sure he was gonna kill me tbh

---
Permissions in this forum:
You
cannot
reply to topics in this forum